TTD Kalyana Vedika Marriage by TTD board for Hindu Couples on Tirumala. Apply for Registered Marriage in Tirumala. Book Kalyanamandapam, Marriage Halls, Guest House for Accommodation, Book Purohit and Darshan. Kalyanotsavam Tickets for newly Married Couples in Tirumala check now.
Tirumala – Sri Venkateswara Swamy temple is currently the largest and most famous temple in the world in terms of pilgrim attraction. The infrastructure and facilities for devotees in every aspect has reached peaks in recent years. As Lord Srinivasa is the ceremonial lord of marriage, Kalyanotsavam is a dialy seva.
Many people believe marrying on this sacred hill will enlighten their marital life with blessings of lord venkateswara swamy. Let us know about booking of Marriage Slot in Tirumala for E Kalyana vedika.
What is TTD Kalyana Vedika?
Previously devotees need to arrange all the necessities and requirements for conducting their marriage on Tirumala Hill. The guest houses are available for booking from the CRO but the Purohit services etc need to be done on our own.
Now TTD board has started Kalyana Vedika, A dharmic platform to conduct the marriages in Bulk in Sri Vari Kalyana Mandapam. The slots and dates are scheduled as per the requirements of Groom and Bride. Marriage couples need to book their Marriage Slot via ttdsevaonline.com website.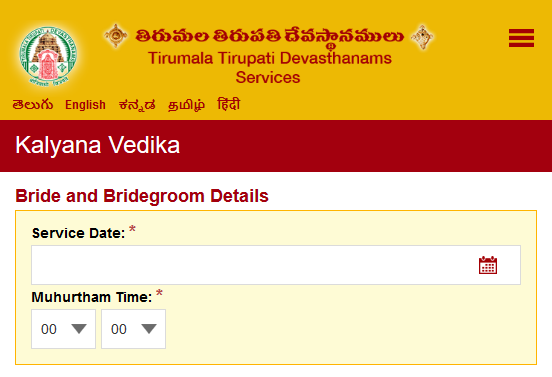 Instructions to Book Marriage Slot via TTD Kalyana vedika Scheme?
Hindu marriage is very ceremonial and spiritual other than any religion. Tirumala Board has given some guidelines to organize marriage on the adobe.
Bride and Groom should belong to Hindu Religion and they must have mutual family consent for marriage. The applicants must reach their maturity age 18 for bride and 21 for Groom.
Certificates and Identity Proofs must be produced while applying for the slot. Residential proofs such as aadhar card, Voter card are accepted.
Absence of parents at the time of marriage, Guardians can take their place by producing proper evidence of relationship with Marrying Couple.
Based on the demand and number of applied couples for marriage on a particular muhurtam, Group ceremonial marriages are also conducted.
Six persons such as Married couple, Guardians or Parents of both people are provided with Seegra Darshan of 300 Rupees after marriage Completion.
The newly wed counle are presented with Prasadams, Pasupu and Kumkum of the lord as a blessing for the occasion.
Marriage Registration certificate can be availed from the Registration Office situtated near by temple.
Download list of Marriage Items in Telugu or Tamil
Online booking Procedure for TTD E Kalyana Vedika for Marriage in Tirumala by TTD:
Visit ttdsevaonline.com website and select E-Kalyana vedika link. Select the muhurtham date after accepting the terms and conditions.
Fill the details of Bride and Groom one by one. After the filling of details confirm the details entered in the form and confirm to get the reservation slip.
Registered couple must produce and confirm their marriage slot before six hours at the Office in Tirumala.
If you need any more information comment or share your view below.