Divyadarsanam Application for Free Tirumala Darshan, Srisailam, Vijayawada Government package tours by bus. APSRTC Divyadarsanam Bus tours list, Online application registration and Selection list download.
Government of Andhra Pradesh has AP Endowment Department for preserving the religious places and cultural heritage. The AP state holds the world's biggest pilgrimage centers of tourists such as Tirumala, Srisailam, Vijayawada etc. Besides many people travel frequently, some are not able to visit even once in their lifetime for all major temples.
Under Divyadarsnam Free Tirumala Darshan program, AP Govt will give free transport, accommodation & Food for devotees in this scheme. AP has four Major temples, Vijayawada, Srisailam, Tirumala and Annavaram.
Check the places provided for free darshan and yatra:
| | | |
| --- | --- | --- |
| Arasavelli | Anavaram | Dwaraka Tirumala |
| Vijayawada | Amaravathi | Mangalagiri |
| Tripurantakam | Jonnawada | Srikalahasti |
| Tirumala | Kanipakam | Ontimitta |
| Ahobilam | Srisailam | Mahanandi |
All the above places are located in 12 districts of AP state. Any four temples are given free tour. Devotees no need to pay single rupee for the trip. It was totally funded by Government.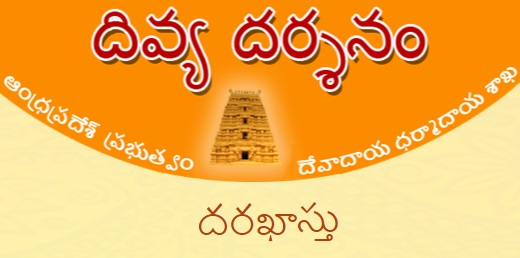 Eligibility for online application to Divyadarsanam Scheme:
Any family with Below Poverty line and having a white ration card are eligible. Offline application is available to download from divyadarsanam.in website.
Maximum 5 persons are allowed from each family per one application. They should be ready to go when the tour commenced. Travelling will be in APSRTC provided Express Class Buses.
Divyadarsanam Free Tirumala Darshan Online Application Procedure:
People can give their filled applications directly to their Mandal MRO office. A collection box is placed with divya darsanam name on it.
Online application requires valid mobile number, email and aadhar number. Login to website and First give phone number of applicant.
Enter the One Time Password received in mobile phone. Now application registration form is opened. Upload Passport size photo, Enter each applicant detail, address, aadhar number.
Finally press the submit application button. You will get the registration number for lucky dip.
How to check Divyadarsanam Selection List and Lucky Dip Results:
All the applicant registration number are mixed and 40 of the applications are selected. Each one has one week time to prepare for the journey.
The picking of pilgrims is purely on random selection. Based on the Bus route availability each group is taken to separate destinations.
Tirumala is majorly preferred of all the tour routes.