Tirumala Donation Schemes, apply for TTD Donor Digital Passbook, Check Donation Offerings, and Privileges. How to give Donation for TTD trusts for Suprabatha Seva, L1 L2 Break Darshan yearly.
Donation offerings for religious rituals and corpus fund is a common thing for devotees. People who visit Sri Venkateswara Swamy Temple in Tirumala hill will always try to offer their money as a fund to corpus hundi in temple. But for development of various facilities and infrastructure requires some systematic and governing body.
So TTD has started accepting donations for separate causes in the name of separately governed trusts. Let us have a look about the list of trusts currently operated by ttd board.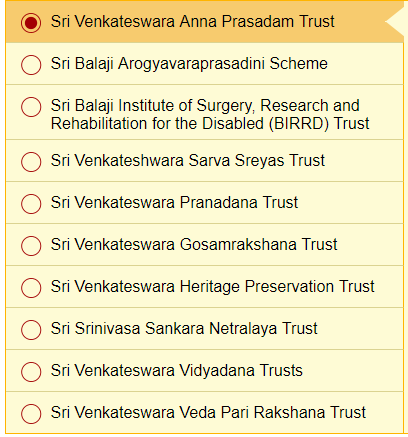 Sri Venkateswara Anna Prasadam Trust
Sri Balaji Argyavaraprasadini Scheme
Sri Balaji Institute of Surgery, Research, and Rehabilitation for the Disabled Trust. (BIRRD Hospital)
Sri Venkateswara Sarva Sreyas Trust.
Sri Venkateswara pranadana Trust.
Sri Venkateswara Gosamrakshana Trust.
Sri Venkateswara Heritage Preservation Trust.
Sri Srinivasa Sanakara Netralaya Trust.
Sri Venkateswara Vidyadana Trusts
Sri Venkateswara Veda Pari Rakshana Trust.
All above trusts welcome the donations of any amount. Minimum Offering is 1 rupee to 999 without receipt for tax deduction.
1000 Rupees to 99,999 Is eligible for tax deduction Certificate from TTD Board. The donations over 1,00,000 Rupees is eligible for special darshan privileages. The only seva offered for the big donations is Suprabatham. Other than this no Arjitha seva is provided for devotees.
Let us check the Privilege's for Tirumala donation given by TTD:
1 to 5 Lakshs: 1 Day Suprabatha Darshanam for 5 Persons on a selected Date at time of Passbook Generation. Accommodation for one day. One Blouse Piece or Uttareeyam, six small laddus.
5 Laks to 10 Laks Donation: 3 Days of Suprabatha Seva darshanam for five members. 3 Days Accommodation. 1 Duppatta with blouse. A single Gold Plated Silver Medallion is presented at the time of Donation. 5 Mahaprasadams are also provided for this donation.
10 Laks to 1 Crore: 3 Days of L2 List VIP darshanam with 3 Days accommodation of 500 Rupees. 20 Small Laddus with 10 Mahaprasam sachets are provided.
1 Crore and Above: Tirumala Donation for TTD of this amount will be facilitated with 3 Dya sof L1 Vip Darshan Tickets. 3 Days of Accommodation of 2500 Rupees Guest house. 10 Big Laddus with 20 Maha prasadam Sachets are provided as a present.
To Donate via TTD website visit www.ttdsevaonline.com